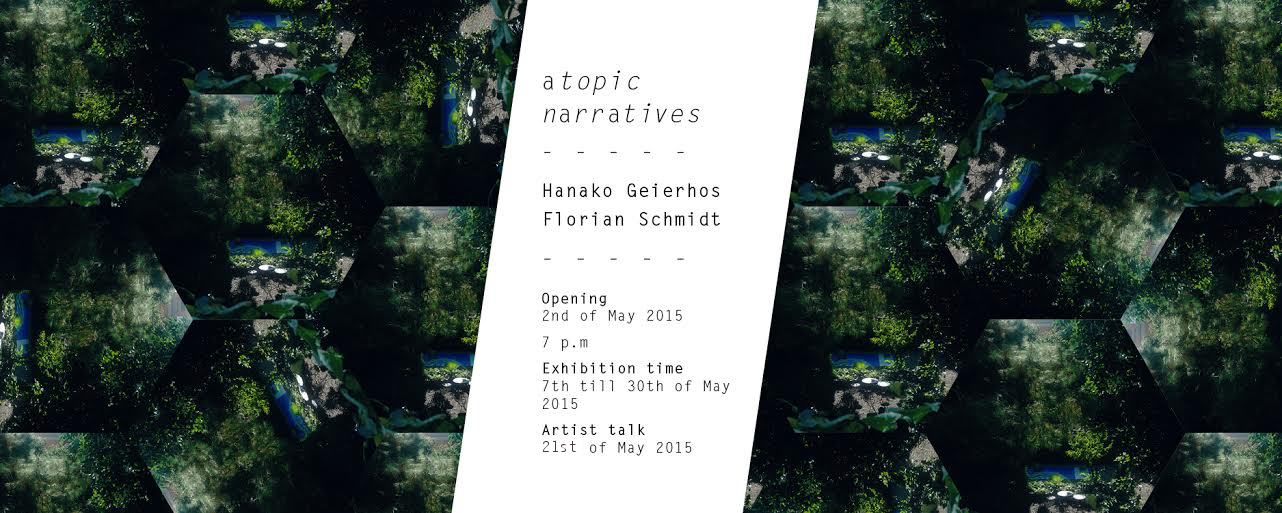 Vesselroom Project is delighted to present during Gallery Weekend the collaborative show  Atopic Narratives by the artists Hanako Geierhos (D) and Florian Schmidt (A), which will open on Saturday, 2nd of May 2015 at 7 p.m.
 
Using their individual artistic practices – performative sculpture and sculptural painting - Hanako Geierhos and Florian Schmidt collaborate this time together on a unique and significant show, connected by an acute interest in alternative constructions of space and the infinite possibilities of forms that can emerge from them.
Atopic Narratives is their first duo-show in Vesselroom Project. Their exhibited works open up questions about the status of public, private and social space (Geierhos) and the meaning of objects and paintings (Schmidt) in an atopic society. Their common aim is to exceed boundaries through an ambiguous outline of their individual works with the further intention of unveiling the space that lays beyond the absoluteness of predominant perception.

Four different and at once synchronized bodies of work will be included in the exhibition space: Vela, Transitory Rituals (H.Geierhos) and Structure, Community (F.Schmidt).
 
List of works:

Vela
= a potential shared space

Structure
= a potential divided space

Community
= a limited space of endless possibilities

Transitory Rituals
= a social space of open possibilities
---------------

Hanako Geierhos
(born in Hamburg, Germany)
Lives and works in Berlin
 
Hanako Geierhos explores art as an instrument of communication and a platform for articulation of sensory experience, different forms of social interaction and individual/collective perception of space.

"At its most fundamental, it may be said that a ritual is the series of gestures that defines the communion between two distinct spaces. Historically, this has largely come to evoke the phenomenal's brush against the noumenal, but, from a more agnostic stance, it can also describe the encounter between two physicalities, two discrete geographies. Something of this provides the point of departure for Hanako Geierhos' poetic interventions. Her multifaceted objects in their various incarnations—from reassembled floor-pieces (Vela) to modular bundles deployed into public space (Transitory Rituals) —offer themselves as the catalysts for so many minute interactions. "   –  Franklin Melendez (2013)

 
Florian Schmidt
(born in Raabs an der Thaya, Austria)
Lives and works in Berlin

Florian Schmidt creates pictorial frames through which he is exploring the relation of space, material and color. This research results in two-dimensional works for the wall and freestanding sculptures.

"In works like 'The Community' series (2010 - ongoing), the focus is not on the representation level itself but rather on the act of bringing together found materials in a visual context. Existing materials such as pieces of cardboard, fragments of canvas and wood in certain colors and shapes are joined to create compositions that are predetermined by the picture's supporting structures: once again, it is the frame, as the image carrier, that determines the organization of the individual fields of color and picture fragments, thus contributing to the transformation of the material into a painterly image." – Stephanie Damianitsch (2013)


In addition to their individual art practice Geierhos and Schmidt collaborated since 2006 together in various group-exhibitions at Gallery 400, University of Illinois at Chicago (2013), Autocenter, Berlin (2009), Body Navigation Festival, St. Petersburg (2008) and Real Presence, Belgrade (2006).

 
////////

Exhibition Opening
2nd of May 2015
7 p.m

Artist Talk
21st of May 2015
7 p.m

Finissage
30th of May 2015
7 p.m

Exhibition time
2nd - 30th of May 2015


---------------
 
Opening hours*
Thursday – Saturday 3 p.m – 7 p.m

*during Gallery Weekend
Saturday 7 p.m – open end
Sunday 11 a.m – 6 p.m