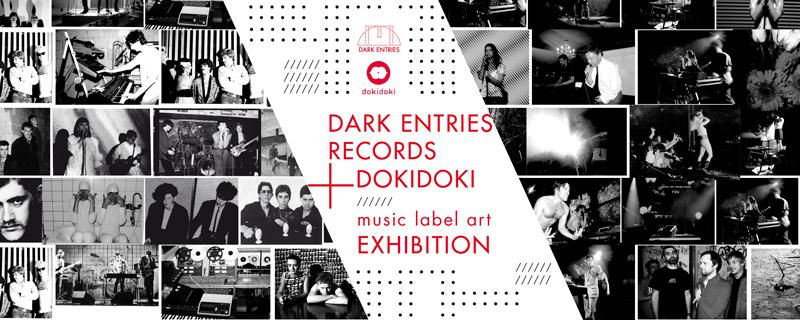 DARK ENTRIES RECORDS + DOKIDOKI
Located at the unavoidable Kreuzberger Zentrum in Kottbusser Tor, Vesselroom Project aims to be a place for encounter, a meeting point for artists and art enthusiasts.
On the occasion of the überfamous Fête de la Musique, Vesselroom Project is planning a complete programme that will unite art & music together with the labels Dokidoki from Paris (France) and Dark Entries Records from San Francisco (USA). It will showcase rare album covers, photos, posters, flyers from bands of the past and present featured on both labels.
Vesselroom Project will confront these two labels with very different imagery, but united by one band: Crash Course in Science. Recently, Dark Entries Records released their latest album's reissue in March 4th, 2014, and Dokidoki organized their first concert in Paris at Point Ephémère in April 6th, 2012. Therefore, it seems natural to get them together, especially in Berlin, a city with many musical aspects that on this special day: 'Fête de la Musique'.
Dark Entries Records is specialized in reissues and they have updated some French bands such as Adn'Ckrystall or X Ray Pop; whereas Dokidoki promotes French artists ranging from sweet pop to nervous electro-rock, such as Arne Vinzon or Kap Bambino.
Furthering their transatlantic collaboration, Vesselroom Project will celebrate the opening of their first common exhibition on the 21st of June with a day-party with two DJs :
/ Patric Catani for Dokidoki
/ Pre Op Trans for Dark Entries Records
www.mixcloud.com/preoptrans/berlin-x-i-i-i
A RISO poster will be produced especially for this evening.
The exhibition will run from the 25th of June 2014 to 12th of July 2014.

DOKIDOKI
In Japanese culture, 'dokidoki' is onomatopoeia which means heartbeat. We say it tapping kindly the chest, a sign of strong emotion. Behind this pretty name beat in unison hearts of a handful of girls graphic artists-activists enthousiates, French to 75.33% and Japanese to 43.66%
Dokidoki is a multidisciplinary collective founded in Paris in 2001, mixing the graphic arts, video, fashion and music. DOKIDOKI EDITION is the label created by some members of the collective, dedicated to independent, adventurous and eccentric pop.
DARK ENTRIES RECORDS
Dark Entries was born in the spring of 2009 to release out of print and unreleased underground music as well as contemporary bands. A project of Josh Cheon, a vinyl-focused DJ and collector, Dark Entries takes great care in preserving sound quality and respecting the aesthetics of its artists. Working with graphic designer Eloise Leigh, all of their releases are a carry over from the DIY days of the 1980s independent record labels in form and function. Dark Entries entrusts all of their projects with the best engineer in the state, George Horn at Fantasy Studios, who has remasters each release using his 50+ years of knowledge in the industry.