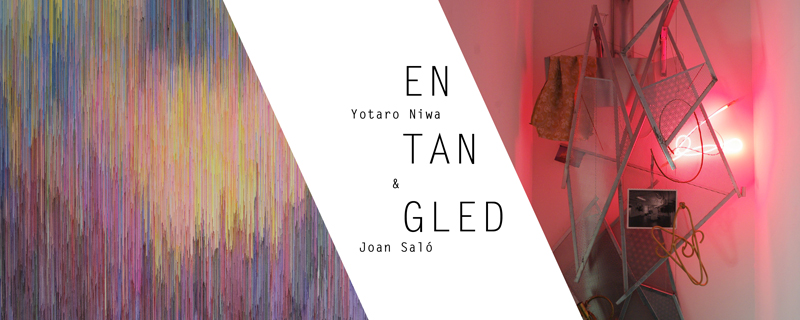 Entangled
//////
During the Berlin Art Week, Vesselroom Project presents ENTANGLED, an exhibition with Yotaro Niwa (JP) and Joan Saló (ES). ENTANGLED plays with the dynamism of their artistic proposals. It explores the implications of chaos and order, and the intrinsic dependence between both.
Their artworks collide at the gallery space, creating preposterous structures that encourage us to (re)evaluate the essence of harmony. It is in their process, in the superposition of layers, where they find the way to stabilize their apparent turmoil, creating a mind-wandering oeuvre. In the search for this balance, they compel themselves to a painstaking mission: the repetition of the infinite lines on a canvas, and the eternal collecting of used materials. Through this everlasting quest, they generate an evocative, almost transcendental work that echoes the concept of modern Sublime. The interplay between their works creates a distinctive scenery, an exuberant setting that is able of surpassing monotony to achieve the extraordinary.
Opening: Sat, 20 Sep, 7p.m /// Artist talk: Wed, 8 Oct, 7 p.m /// 
Duration: 24 Sep – 25 Oct 2014
----------------------------
Yotaro Niwa (1973, Awaji Island / Hyogo, Japan ). Lives and works in Berlin.
Yotaro Niwa works with a variety of media including sculpture, drawing, installation and photography. His practice involves the use of everyday objects, often taken from locations near to where he works. The choice of materials are closely linked to its relationship between the environment and his random thoughts.Variable configurations of objects and unexpected occurrences, their instability left ambiguous, form a network of relationships, which attempt to confound the viewer's expectations of order and harmony.
Yotaro Niwa has exhibited widely around the world, and he has done residencies such as Fogo Islands Arts (Canada), Gyeonggi Creation Center (Korea) or Cité International des Arts (France).
Joan Salò (1983, Igualada, Spain). Lives and works in Berlin.
Joan Salò challenges in his work the classical oppositions between drawing and color, gesture and color field painting, while he facilitates the encounter between Eastern mysticism and Western traditions. It is the viewer who will either take one or the other interpretive path in relation to his own contemplative experience.
Joan Salò has participated in several exhibitions from independently run art spaces like Kreuzberger Pavillion in Berlin or Hangar in Barcelona, as well as significant galleries like Luis Adelantado in Valencia or the Catalan Contemporary art Biennial as itinerant show.