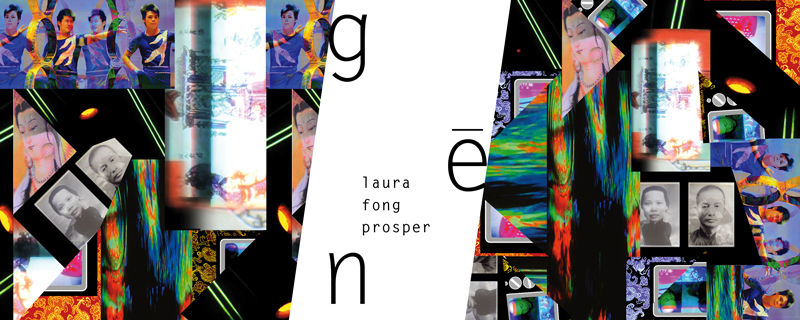 ///       GĒN      ///
"There is no quality of sensation so bare that it is not penetrated with significance"  
Jean-Paul Sartre
Images are composed by colours and feelings, shapes and consciousness. They transpose our meanings into a whole array of visual symbolism. Laura Fong Prosper uses a looking-glass logic to depict the arduous mission of tracing her line. Through a crisp selection of videos, she tells her fragmented story; a testimony of her inner search and the tale of two countries. 
Throughout her life, there was always a black and white photo of a couple. It was almost too high to be admired, but definitely too low to be avoided. The blurry figures were always present. They crowned the space. Their gaze was still clear, their presence never faded away. Those were her ancestors. Her roots. Gēn is a story made of many stories, the ones she found and new ones that came to her when she was chasing her family plot. 
With an eclectic approach, she is able to render miscommunication, exhaustion, loss, bewilderment, incomprehension. Revelation. The exuberant video installation at Vesselroom Project reflects on changing consciousness, enquiring about a process of becoming where identities are transient, perpetually moving from one aspect to another. They might occur as moments of contact, competing forces, shifting intensities or concentrations, or relations between terms. Her voracious imagery transforms the gallery space into a compelling experience only guided by her insatiable eyes. 
---------------
Opening: Sat, 15 Nov, 7 p.m. 
Artist talk & Catalogue launch: Thu, 27 Nov, 7 p.m.  > Go to Facebook Event
Finissage: Fri, 12 Dec, 7 p.m.
Duration: 15 Nov – 12 Dec 2014
---------------
Laura Fong Prosper
(1978, Panama City, Rep. Of Panama ) / Lives and works in Berlin
Laura Fong Prosper is a Panamanian artist focused mainly on photography and video. She addresses issues of cultural belonging, longing, ancestry and exile. Her art has been exhibited in China, Panama, Germany and Brazil making her solo show debut this November in the Vesselroom Project in Berlin.
With a degree in film editing from the International School of Film and TV of San Antonio de los Baños in Cuba and a MFA in Media Art from the Bauhaus University Weimar in Germany she also has a long career as a film editor and VJ.