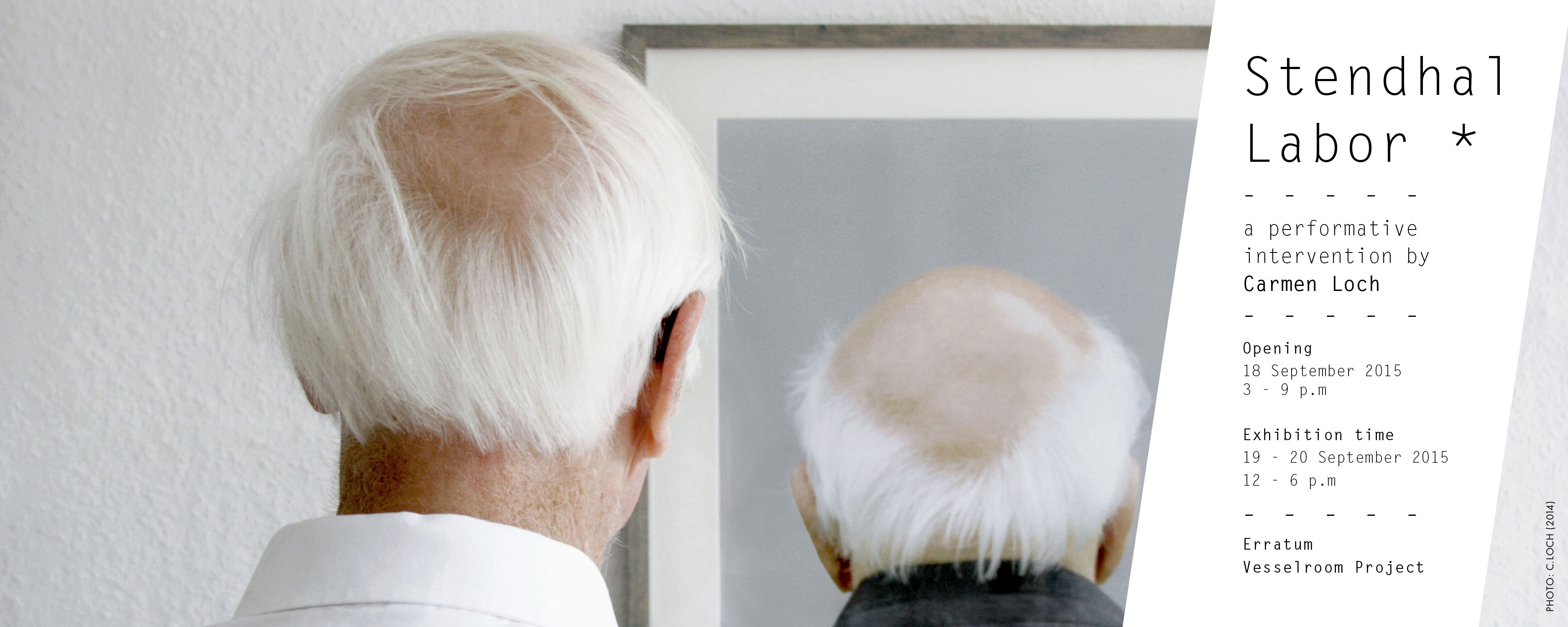 Vesselroom Project and Erratum Galerie offer their spaces to the performance artist Carmen Loch, in order to develop a performative oasis for the overstimulated art audience during the Berlin Art Week 2015 within the frame of Xchange program.
Vesselroom Project
Located on the first floor terrace of the iconic Kreuzberger Zentrum, the space benefits from natural daylight and surroundings elevated by blossom trees and singing birds. It becomes the illuminated counterpart of Erratum Gallery.Visitors are granted access to watch the simultaneous happenings of the laboratory through control monitors, creating a mirror for their surveillance experience. This enables a dialogue between both light and dark spaces, granting the visitor status as passive observer and hierarchical overseer. The two galleries' inverse conditions in terms of light, space and location permit the performances to be synchronously in contrast and compatibility with one another.
Erratum Galerie
Situated in a cellar-like basement with almost no natural light, the gallery evokes associations to a bunker and meditation room. To ensure the gallery has an ambience of a clinical and healing nature, the installation will include camp beds with white clean sheets, healing frequencies and olfactory stimuli. A pair of auxiliary assistants will attend visitor's feasible needs, such as performing Mindfulness Trainings and administering placebo pills to imitate deceleration.
The aim of the space is to create a muted and relaxed atmosphere. Optional interactions with the artist will be predominantly related to and in support of relieving the audience from their physical and mental strain from digesting and processing the high quantity of exhibited artworks. The aesthetic of the intended installation are to be neutral and clinical, thus enabling the focus to be directed toward the visitor's experience.
The installation of this part of the performance will take place as an unbroken continuation of the previous exhibition from Vesselroom Project, Point of no Return, by Cristina Moreno Garcia and Marco Montiel-Soto, which will deal with the topic of transition through the collaborative experience.
* Stendhal Syndrome is a psychosomatic disorder in temporal association with cultural and artistic overstimulation. Symptoms include panic attacks, cognitive disorders and delusional consciousness. The syndrome was named by the Italian Psychologist Graziella Magherini in 1979, after the famous 19th-century French author Stendhal (pseudonym of Marie-Henri Beyle). In a study published ten years later, Magherini observed and described more than 100 similar cases among tourists and visitors in the art metropolis of Florence, cementing the recognition of syndrome internationally. 
Carmen Loch, born in 1983. Lives and works in Leipzig (Germany)
She began her studies at École de Beaux Arts in Toulouse and graduated in 2011 at the Academy of Fine Arts in Nuremberg as master student by Professor Michael Munding.
Her work develops an immersive multi-sensory prac- tice in order to explore individual aspects in human relations and their social context. Her particular projects provide a specific environment, made on site and combining painting, sculpture, installation, sound and olfactory marks. The aesthetic of these settings is both clinical and welcoming in order to facilitate close interaction between visitors (volunteers) and the artist in the role of her performative alter ego.
Carmen Loch has exhibited internationally at Lenikus Studios in Vienna in 2015, Kreuzberg Pavillon in Berlin in 2014 or Cité Internationale des Arts in Paris in 2013. She has become grants and scholarships like the project funding in 2014 from Nuremberg Cultural Department or the exchange program scholarship with Cité Internationale des Arts in Paris in 2013 from the Ministry of Sciences, Research and the Arts of Bavaria. She took part as well in several workshops like "Creating through collaboration. Space. Body. Camera" by Grzegorz Kowalski and Artur Żmijewski in 2013. 
Opening: Friday, 18th of September 2015, 3 - 9 p.m
Duration: 19th - 20th of September, 12 - 6 p.m
Erratum
Böckhstraße 40, Hinterhof links, Souterrain, 10967 Berlin 
http://erratumgalerie.tumblr.com
Vesselroom Project
Adalbertstraße 4, 1.OG, Treppe zum Café Kotti, rechts, 10999 Berlin 
with the kind support of