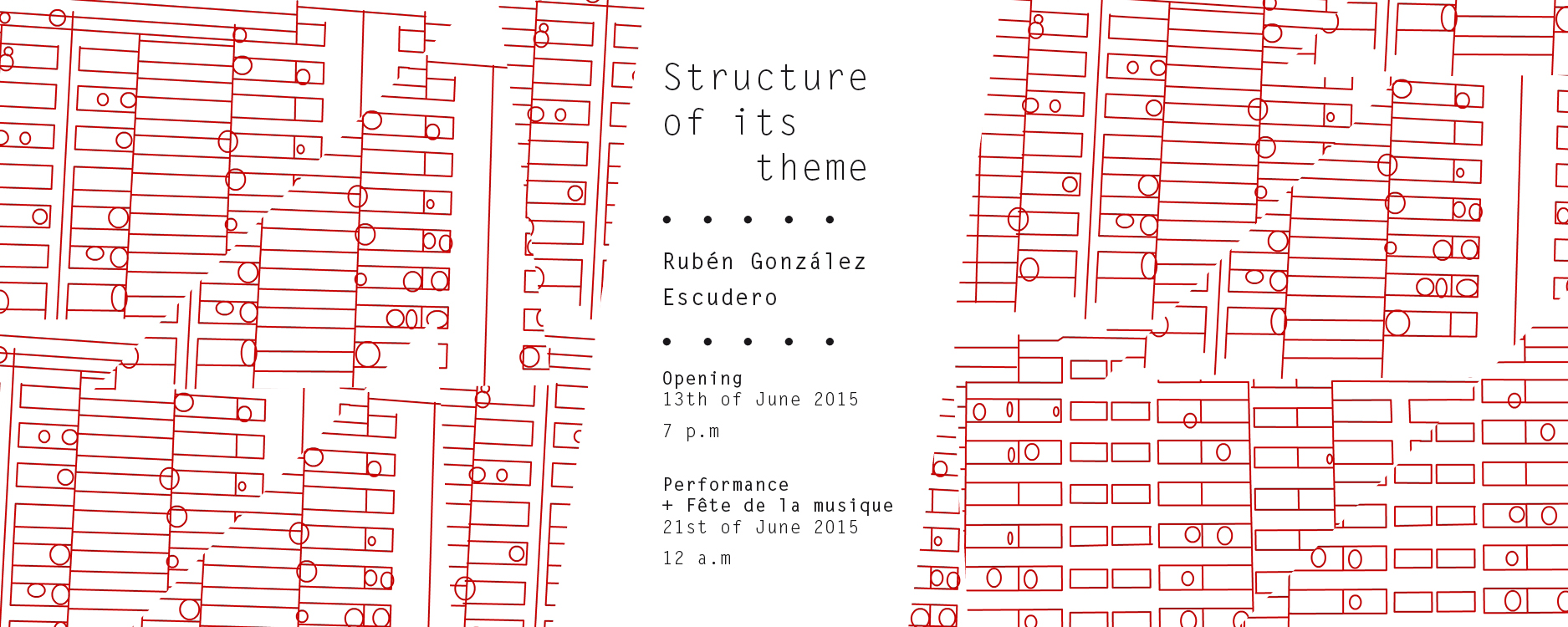 Vesselroom Project is delighted to present the collaborative project within the frame of the solo exhibition 'Structure of its theme' by Rubén González Escudero (ES) which will open on Saturday, 13th of June 2015 at 7 p.m.  The exhibition will host two different events: Fête de la musique, on the 21st of June 2015 and a workshop for children on the 1st of July 2015.
STRUCTURE OF ITS THEME
'Structure of its Theme' is a study of the facade of the iconic Neue Kreuzberger Zentrum (NKZ) building in Kottbusser Tor, in order to convert its antennas into musical notes from which their score lines constitute the structure of the building. The reason for the large number of antennas at the Neue Kreuzberger Zentrum is connected to the origin of the building. Designed by Wolfgang Jokisch and John Uhl, it was built between 1969 and 1974 within the first program of urban renewal in West Berlin.
It was negatively received and completely rejected by the local residents as it meant the demolition of much of the surrounding area's buildings that had predated and survived the war. Moreover, the new building was designed to shelter a highway that would cross the neighborhood; hence its characteristic shape. NKZ was intended to accommodate the mass of immigrants that arrived as «guest workers» in the 60s and 70s due to the economic boom in West Germany, mainly Turkish people in the case of Berlin.
«I'm interested in the antennas as a connection tool to their culture of origin; like enormous ears or belly buttons which connect to a distant motherland. They become architectural elements, as the inhabitants of the building modify and personalize its appearance through an unintentional act of mere functionality. I am interested in the poetic act of encoding through music the physical facts, in this case obtaining a soundtrack which is defined by the tenants themselves, so fragile and connected to them, and exposed to be easily altered as soon as they have to change home.»
Rubén González Escudero
*Madrid, Spain. Lives and works in Berlin 
Rubén González Escudero was born in Madrid in 1979, graduated in Visual Arts by the Complutense University of Madrid in 2007. Since then he lives in Berlin and has performed screenings of his videoworks in GlogauAIR (Berlin) and Loop (Barcelona) and exhibited in different places like Casal Solleric in Palma de Mallorca, Galería Kreisler in Madrid, Alte Kindl Brauerei, Tachelles o Werkstatt der Culturen in Berlin. Since 2009, he is part of the artistic collective Dreiecke with Elena García Jiménez and Marina Escorial.
His work comes from a particular view of the world and its context, that he sees as an affecting cultural construction of our perception. His interest lies primarily in the subject and his environment, which he considers not only on a physical level, but also in its broader meaning. In his artistic process, he begins with the observation and exploration of his surroundings, to later analyze them by photos, paintings, drawings or video. This is followed by the deconstruction, contextualization, alienation and abstraction of the results. Ultimately, reality is reconstructed in a new order again, gathered up or associated in an alternative way. The result of this process brings up the question of how unconditional conventions affect our reality.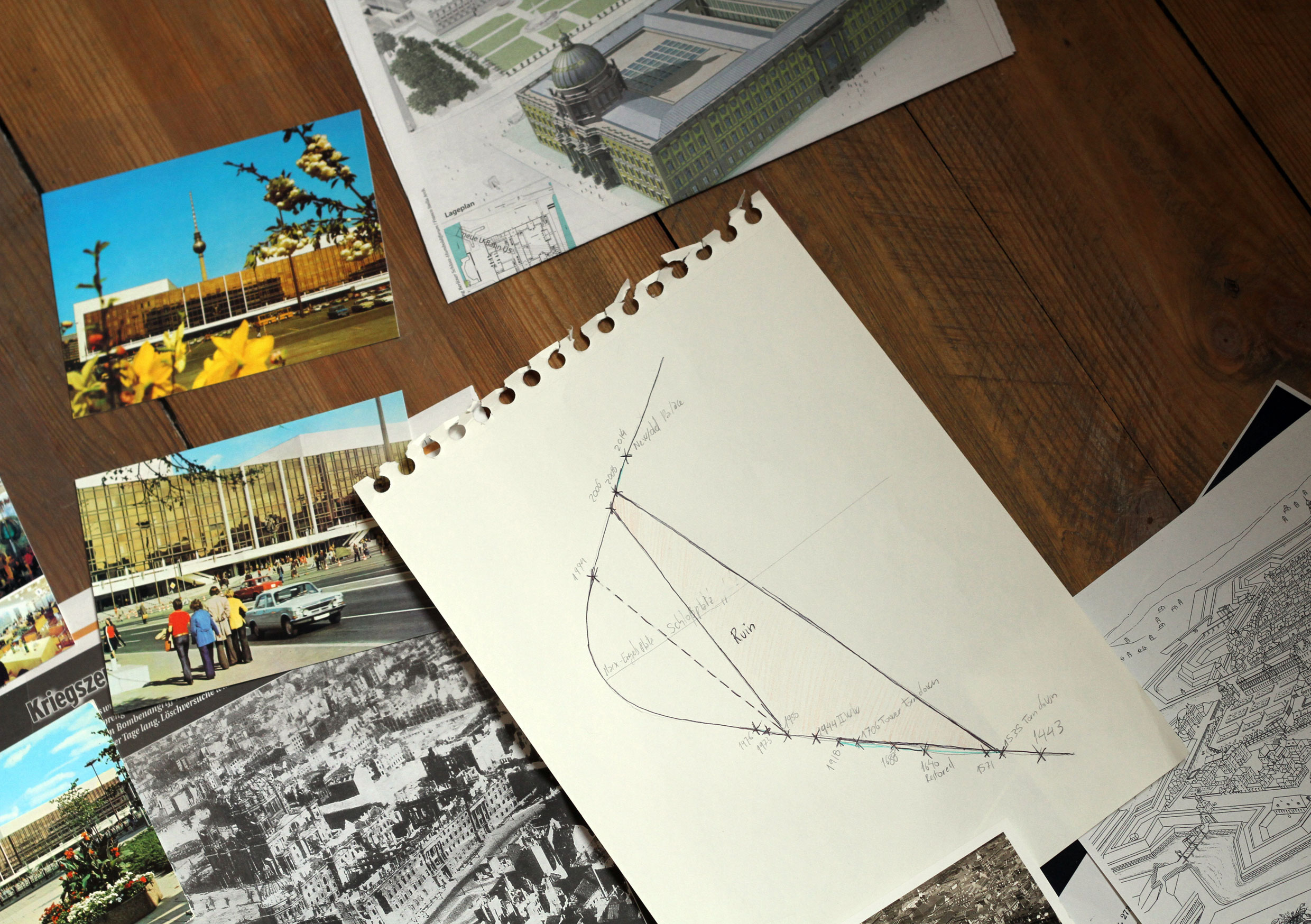 FÊTE DE LA MUSIQUE
On the ocasion of the worldwide - celebrated festival Fête de la musique on the 21st of June 2015 at 12 a.m., Vesselroom Project is pleased to announce a series of five musical performances that will take place in frame of the solo show 'Structure of its theme' by Rubén González Escudero.
Our selection of artists for the whole day include:
Nino Díaz (ES)
Nino Díaz is a spanish composer, multidisciplinary artist and cultural manager living and working in Berlin. He will be interpreting the music score done by our invited artist Rubén González Escudero based on the antennas of the building where Vesselroom is located.
Michael Thomas (GE)
Starting to learn the cello at very early stage, Michael has always been curious about a wide range of musical genres, including jazz, classical and world music. After he discovered electronic music in his early twenties, he became passionate in particular about Berlin Techno scene. Inspired by its hypnotic effects, he began to experiment with electronic sounds himself and exploring the diversity of synthetic sounds in order to capture the musical ideas that have been floating in his mind. Together with drummer Richard, he founded the electro acoustic live project "Flying Yourtes" in 2013. Recently, he has been focusingmore on his own work, while also collaborating with various other electronic musicians. Michael will be also offering his own interpretation of the music score of the exhibition 'Structure of its Theme'.
Sr Charli (ES)
carlospedron.wix.com/writinganimations
Carlos Pedrón is a Spanish painter, compositor, hand animation maker, piano Luthier and multi instrumentalist. For the last two years he has been working in a project called "Writing animations", which is an audio/visual project based his diary´s animations with piano live improvisation. This project pretends to be open to all, so every performance can be different and involve spontaneous work with another artists.
Dizzy Moon (FR)
One cello and one voice. Dizzy Moon is a singular project that proposes an extremely sensitive combination, where the richness of the cello sounds mingle with Maryse's limpid and ethereal voice and bring flashing and stealthy lyrics. With songs mostly in English (sometimes in French) one lets oneself get carried away by the smooth and airy unity with folk and indie pop influences.
Alessandro Biscetti (IT)
Alessandro Biscetti is an Italian guitarrist who normally plays in the bossa nova formation Noi Duo. On the Fëte de la Musique day at Vesselroom he will be presenting a little soloist program between classical and South American folk songs.
----------------------
PROGRAM
Exhibition opening: 13th of June 2015, 7 p.m
Performance + Fête de la musique: 21st of June 2015  / 12 a.m till 10 p.m
Kids Workshop: 2nd & 3rd of July 2015
Exhibition time: 18th of June–4th of July 2015
with kind support of