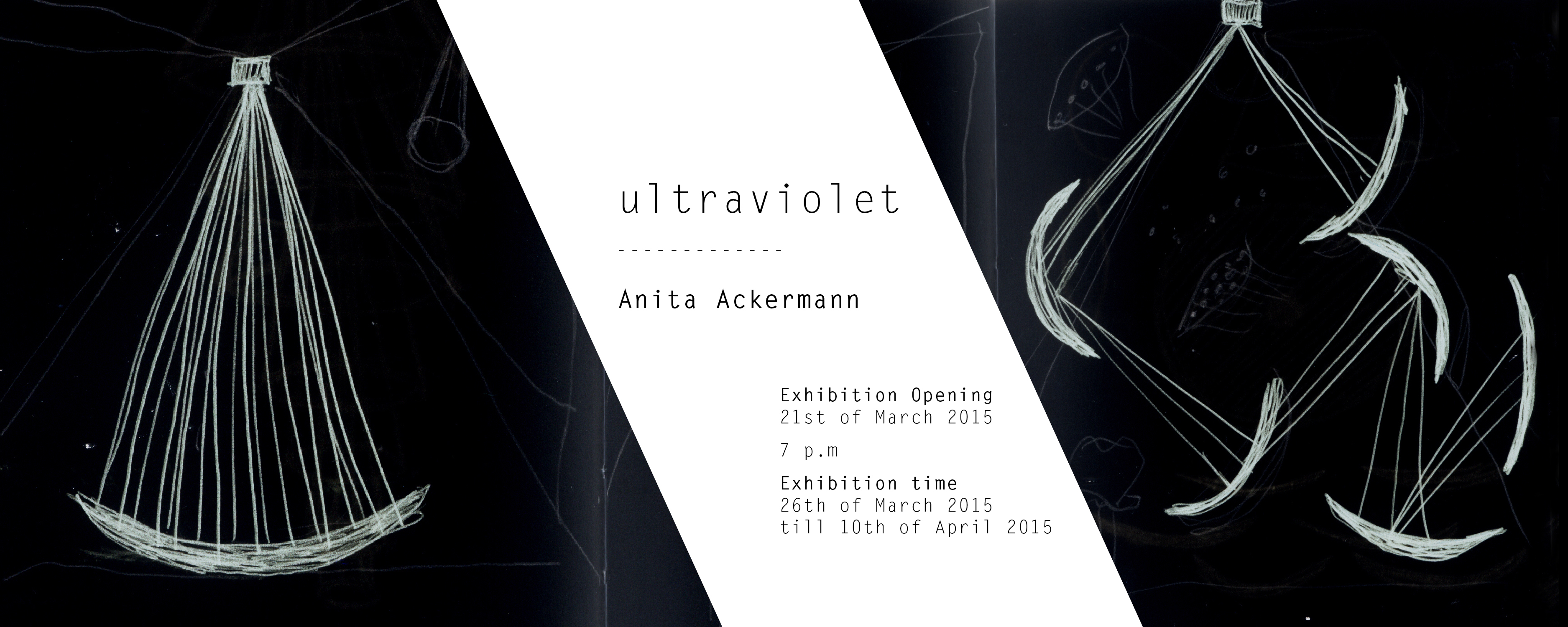 "What I am trying to convey to you is more mysterious, it is entwined in the very roots of being, in the impalpable source of sensations"
J. Gasquet, Cézanne
Ultraviolet, the first solo-show of Anita Ackermann at Vesselroom Project, epitomizes the unseen together with the seen, the capacity of light of both embodiment and intangibility.
Anita Ackermann pursues, relentless, a quest for an experiential revelation. She beseeches an emancipated audience, actors of their own right to whom unveil a sensation that goes beyond the mere sensual experience. Through her installations, she reveals a profound grasp of the active dimension of perception, where our body is implied in a provisional, indeterminate construction of reality.  
Four moon-shaped sculptures invade the space. Two oscillating in room, erratically swinging, balanced with rocks; while the other two rest on the floor. During the day, they track and reflect the sunlight. At night the visitors, armed with a torch, are empowered to generate their own panorama. There is a certain unease, an intrinsic tension that inevitably roots the kaleidoscopic moons to the ground. Bringing them to reality. Transforming the sculptures into catalysts capable of uncovering the texture of experience. In this situation, the audience becomes participant of an interplay between reality and subjectivity, aware of the bodily experience in the formation of reality.
Her oeuvre reflects upon the consciousness of an open-ended version of a world in flux - studying the mutual application of seeing upon being seen, and vice-versa. As Merleau-Ponty explains in Eye and Mind: each object mirrors all others. The same way that, in Ultraviolet, light, materiality and presence come to be the players of a game that revolves around the inner awareness of the self and the subjectivity of our own reality.
Text by Barbara Cueto
Anita Ackermann, 1984, Mainz, Germany. Graduated from the University of the Arts (UdK) in Berlin, the German­-Romanian artist mainly works in the field of sculpture and installation art in order to research three-dimensionality as well as light as a medium, and to explore different ways to perceive time and space. Her interest lies in transforming space through minimal changes and evoking a change in perception. Ackermann also often focuses on the viewer's experience by actively incorporating the audience into her work.

www.anitaackermann.de
www.inthelightofmovement.com
Opening: Saturday, 21st of March 2015, 7 p.m  >> Facebook Event
Artist talk: Wednesday, 1st of April 2015, 7 p.m
Duration: 26th of March til 10th of April 2015
Kindly supported by:
Staatskanzlei Rheinland-Pfalz
Special thanks to:
Ultraviolet by Anita Ackermann | © Laura Beltrán